Exhibitions
Currently present: Life along the Limes: Bodegraven.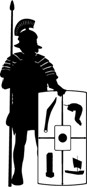 The museum currently hosts an exhibition about de town of Bodegraven during the Roman Period. Of special interest is a Roman curse tablet, containing the names of at least 21 soldiers. This exhibition is the third in a series of four exhibitions about the Limes.
The Limes in Bodegraven
Explore Roman Bodegraven. Although it is not present on maps from the Roman period, archaeological finds indicate there should have been a fort at Bodegraven. The entrance of the fort has bbeen excavated by the AWN and local volunteers, but the exact size an shape of the fort are yet the subject of discussion. Apart from these wooden finds, three spectaculair objects have been found in Bodegraven. In the National Museum Antiquities you can see a Roman equistrian helmet, a curse tablet and a wooden helm. The curse tablet was found in 2000, after which Museum Het Valkhof bought it. It is now on loan for this exhibition. This is the first of these tablets found in the Netherlands. The tablet, called a tabula defixionis, contained curses or spells, meant to call upon supernatural forces. The rudder has been used on a special type of Roman ship (Zwammerdam) and will be shown to the public for the first time.